Balconies Waterproofing Tampa, FL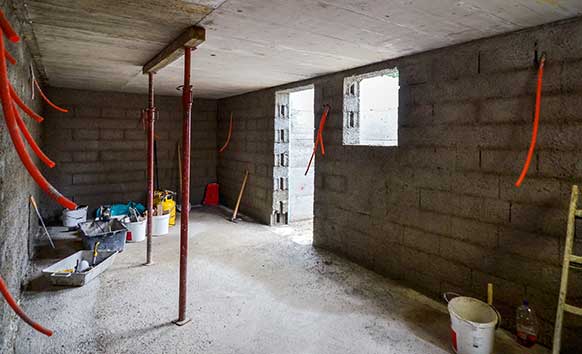 Waterproofing your balcony is essential for protecting it from water and moisture damage. Without waterproofing, the wood on your balcony can rot, leading to costly repairs or complete replacement of your structure.
Furthermore, if you have a tiled balcony, unsightly mold and mildew can build up over time due to standing water. This not only looks bad but also poses health risks as well.
The good news is that there are some relatively straightforward steps you can take to protect your balcony from the elements. Our professional team at Tampa Waterproofing Pros offers comprehensive services using modern materials and techniques that will ensure long-term protection for your outdoor space.
With our help, you'll be able to enjoy an attractive and safe living area for years to come. 
FREE INSTANT QUOTE!
Get a FAST Response
The Process Of Balcony Waterproofing
Waterproofing your balcony is a great way to make sure it can withstand the elements and remain safe for years. The process of waterproofing your balcony from Tampa Waterproofing Pros is easy, with our team taking care of everything. We take extra precautions when it comes to balconies because they are exposed to outdoor conditions all year round.
Our experienced professionals use specialized knowledge and high-quality materials for maximum protection. We begin by inspecting the existing condition of the balcony in order to identify any areas that need attention or repair prior to applying sealant. Then we apply several coats of primer before applying a topcoat sealant specifically designed for concrete surfaces.
The application requires precise timing between each coating so the product will adhere correctly and last longer. After allowing time for proper curing, we inspect our work one final time to ensure exceptional results every time. Our expert technicians have what it takes to get the job done right and provide superior quality waterproofing services – no matter how big or small the project may be.
With our workmanship guarantee, you can rest assured knowing your investment in protecting your balcony will stand up against any weather conditions thrown its way.
High-Quality Materials For Maximum Protection
At Tampa Waterproofing Pros, we believe in only using the best materials to ensure maximum protection. We use high-quality waterproof membranes that act like an impermeable barrier between your balcony's surface and the elements.
Our team is always up-to-date on the latest products available; so you can trust that you're getting a reliable solution for your needs.
We also make sure all necessary accessories are included in our kit: sealant, adhesive, joint tape, galvanized lath nails, etc. With these extra items, there will be no need to purchase anything else before installation!
The end result is a strong and durable waterproof system that'll stand against any weather conditions. And with proper maintenance, it should last for years to come.
Our experienced and knowledgeable team is ready to help you through every step of the process. They understand how important it is for your balcony to stay dry at all times – which is why they work hard to provide superior service from start to finish!

Experienced And Knowledgeable Team
Our highly trained and experienced team at Tampa Waterproofing Pros is the key to providing you with a successful balcony waterproofing service. We understand that our quality materials for maximum protection aren't enough; it takes more than just great products to create an effective barrier against water damage. That's why we employ only the best technicians who are dedicated to delivering outstanding results:
* Our staff have years of experience in the industry, ensuring they can properly identify potential issues and provide long-lasting solutions.
* They continuously receive specialized training on new technology and techniques, so you can rest assured your project will be completed using the most up-to-date methods available.
* Our team members take extreme pride in their workmanship, always putting customer satisfaction first.
Our commitment to excellence doesn't end there—we also strive to offer superior customer service throughout every step of the process. From initial inspection through completion, we go above and beyond to ensure complete satisfaction with our services —no matter how big or small the job is.
Superior Customer Service
At Tampa Waterproofing Pros, customer service is a top priority. Our staff are knowledgeable and friendly; they take the time to understand each client's needs and provide helpful advice on selecting materials that best suit their unique situation. We also offer free estimates for our services so you can make an informed decision about your project.
Our team works hard to ensure all of our customers receive superior waterproofing results without sacrificing quality or price. From start to finish, we guarantee satisfaction with every job. We won't rest until you're 100% satisfied with your balcony waterproofing solution!
With us, you can feel secure knowing that everything will be done right the first time around. All in all, you get high-quality work at competitive prices backed by reliable warranties and excellent customer service – what more could you ask for?
Contact us today!