Tanking Service Tampa, FL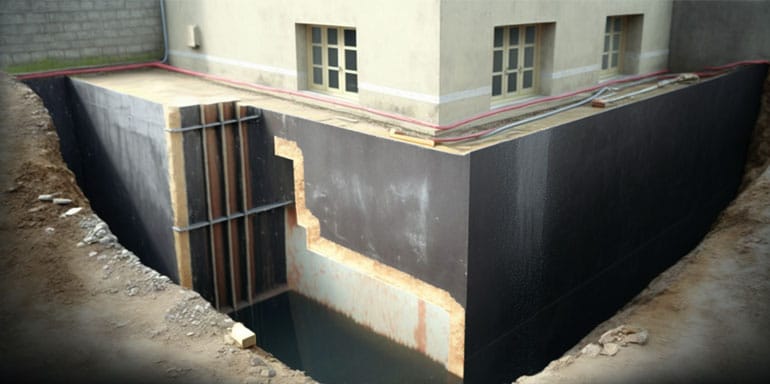 Our tanking service is designed to protect your home from water damage, and give you peace of mind that the structure of your home will remain intact.
We understand how important it is for you to feel secure in the safety of your own home, so we make it our mission to provide quality services and products that will ensure long-term protection.
At Tampa Waterproofing Pros, we believe that every homeowner should have access to a waterproofing system that's reliable and effective.
We strive to provide you with an affordable solution so you can get the protection you need without breaking the bank.
We also offer a variety of other services so you can liberate yourself from any worries related to the effects of water on your home or business.
With our help, you can rest assured knowing that your property is safe and sound!
FREE INSTANT QUOTE!
Get a FAST Response
Benefits Of Tanking Services
Tanking services provide a wide range of benefits to homeowners. Not only do they help protect the foundation of your home, but they also ensure that it remains structurally sound and free from water damage.
Tampa Waterproofing Pros can provide you with reliable and effective tanking solutions that will keep your home safe for years to come. With our tanking services, you can enjoy peace of mind knowing that your property is protected from water-related problems.
Our solutions are tailored to meet the specific needs of each customer, ensuring maximum protection from any potential sources of water damage. Additionally, we use only the highest quality materials in our work so that you can be sure it is done right the first time.
We understand how important it is for your home to remain dry and secure, so we strive to make sure all tanking needs are met with professional-level care. With us, you can rest assured knowing that your property will stay safe and protected for years to come.
Types Of Tanking Solutions
Tanking solutions are an essential part of a successful waterproofing job. They prevent water from entering your property, while simultaneously keeping it dry and free from moisture.
Tampa Waterproofing Pros offer a variety of tanking solutions that can be tailored to fit any property's needs. Our solutions include both internal and external tanking, as well as concrete and polymer-based systems.
We understand that each property has unique needs when it comes to tanking solutions. That's why we take the time to get to know you and your property before making any recommendations.
We have years of experience in the industry, so you can trust us to provide you with top-notch service and quality products. Our team is here to help you find the best solution for your individual needs so that you can rest assured knowing your property is safe from water damage.

Our Professional Tanking Team
We have a team of experienced professionals at Tampa Waterproofing Pros that are ready to help you with your tanking needs. Our team consists of highly-skilled professionals who understand the importance of delivering the highest quality service and results.
We work hard to ensure our customers receive the best possible tanking solution for their home or business. Our team is well-versed in all areas of tanking technology and has extensive knowledge on the latest products and techniques.
We take pride in providing our customers with a tailored tanking service that meets their specific needs. Whether you need help with a minor repair or a complete installation, we have the expertise to get it done right.
With our team's expertise and commitment to excellence, you can rest assured that your tanking needs will be taken care of quickly and effectively.
The next section discusses our tanking process overview so you can see exactly how we do things.
Tanking Process Overview
Feeling overwhelmed by the prospect of taking care of your wet basement? Worry no more; Tampa Waterproofing Pros has got you covered. We have an experienced team of specialists who are ready to help you with your tanking needs.
Our tanking process is thorough and efficient. We take all necessary steps to ensure that your basement is waterproofed and protected from any potential water damage or flooding.
First, we inspect and assess the area to identify any areas that need attention.
Then, we install a special waterproof membrane called a tanking system which will protect your space from any water intrusion.
The membrane is applied using specialized techniques to ensure effective coverage and protection.
Once the installation is complete, we test the system to ensure it works properly and provide regular maintenance as needed.
Why Choose Tampa Waterproofing Pros?
At Tampa Waterproofing Pros, we understand that your home is more than just a building – it's your haven and refuge. That's why our team of highly skilled professionals are dedicated to helping you protect it from water damage, mold, and other moisture-related problems.
We offer comprehensive tanking services that will provide you with the peace of mind that comes with knowing your home is safe from water-related issues. Our experienced technicians use only the latest technology and techniques to ensure that all of our tanking services are done right the first time.
We'll take the time to inspect your property, identify any potential issues, and provide you with a detailed plan for addressing them. We'll also provide you with tips on how to maintain your home in order to avoid any future problems. With Tampa Waterproofing Pros, you can trust that your home is being taken care of by experts who understand the importance of protecting what matters most to you.
Contact us today!