Rooftops Waterproofing Tampa, FL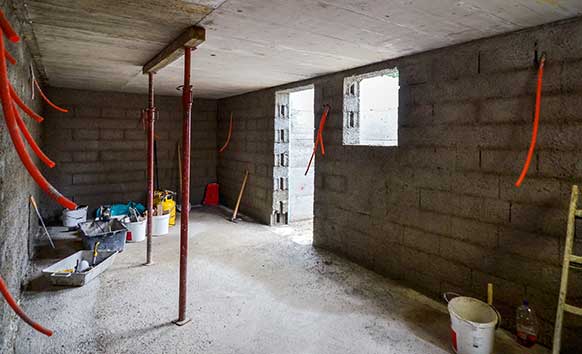 Rooftop waterproofing is a process that involves protecting the roof from water damage. It's typically done with a coat of sealant or membrane applied to the surface, which helps keep moisture out and adds another layer of protection against future water issues.
Roofs can be exposed to all sorts of elements – rain, snow, hail, high winds – so having an extra layer of defense against them is essential for keeping your home safe and secure.
The benefits of rooftop waterproofing are numerous; it prevents leaks in the roof that can cause major damage, extends the life span of the roof by preventing deterioration caused by water seepage and other environmental factors, reduces energy costs due to improved insulation levels, and enhances overall aesthetic appeal of the property by providing a uniform look.
Taking these steps now will help protect your home in the long run and ensure that it remains structurally sound for years to come. With proper maintenance and care, you'll have peace of mind knowing your home is well protected.
FREE INSTANT QUOTE!
Get a FAST Response
Benefits Of Rooftop Waterproofing
When it comes to keeping your roof safe from water damage, rooftop waterproofing is an essential service. Waterproofing your roof will help protect against leaks and other forms of moisture-related damage that can occur over time.
Some of the main benefits of rooftop waterproofing include:
* Increased durability – When you apply a waterproof coating on your roof, this helps increase its lifespan by protecting it from natural elements like wind, rain, and sun exposure. It also reduces the risk of mold growth due to excess moisture accumulation in certain areas.
* Lower energy costs – A properly sealed roof will be more efficient at regulating temperatures inside the building. This means less money spent on heating or cooling systems as well as reduced utility bills overall.
* Improved aesthetics – Applying a waterproof sealant also improves the aesthetic value of your home or business property since it prevents dirt or debris buildup and makes cleaning easier.
At Tampa Waterproofing Pros, our team of professionals are experienced in providing top quality services for all types of roofs—from commercial buildings to residential homes—ensuring that each project is done correctly and efficiently so you can enjoy lasting protection from water damage.
Our Team Of Professionals
At Tampa Waterproofing Pros, we believe our team is the most important part of delivering quality waterproofing services.
Our staff are highly knowledgeable and experienced professionals who have mastered their craft over many years in the industry.
We take pride in providing personal attention to each job, ensuring that all requirements are met before any project begins.
Working with us means you benefit from a team of people dedicated to making sure your roof remains watertight for many years to come.
We use only high-quality materials and techniques to guarantee long-lasting results; this gives you peace of mind knowing that your investment will be well protected.
To make it easier for you, we'll provide guidance on how best to maintain your roof so it stays healthy throughout its lifespan.
With our help, you can rest assured that your rooftop will remain strong and secure no matter what weather conditions it faces.

High Quality Materials And Techniques
At Tampa Waterproofing Pros, we use only the highest quality materials and techniques for our rooftop waterproofing services. We make sure that every job is done correctly with care and attention to detail so you can trust us to get the job done right.
Here are some of the features of our high-quality service:
1. **Durability**: Our products have been tested to ensure they last in all kinds of weather conditions, making them perfect for any type of rooftop environment.
2. **Reliability**: We guarantee that our services will be reliable and long-lasting, no matter what kind of roof or structure you need waterproofed.
3. **Innovation**: Our team uses state-of-the-art technology to provide the best possible results for your project.
We understand how important it is to find a company that provides quality workmanship and dependable customer service, which is why we strive to deliver both on every job we do. With this commitment to excellence in mind, clients can rest assured knowing their projects are being handled by experienced professionals who take pride in their craftsmanship.
With this assurance comes the confidence that our fast and reliable service will meet your needs as quickly as possible.
Fast And Reliable Service
At Tampa Waterproofing Pros, we strive to provide our customers with fast and reliable service. Our team of experienced professionals is dedicated to ensuring that your project is completed in a timely manner.
We understand the importance of getting the job done quickly without sacrificing quality – so you can rest assured knowing that your waterproofing needs will be taken care of efficiently and effectively.
Our commitment to providing quick service does not end there. We also prioritize customer satisfaction by offering helpful advice and support throughout the entire process.
With our expert guidance, you can feel confident that your rooftop waterproofing project will go smoothly from start to finish. We are committed to delivering superior results for each client, every time.
Contact us today!